This is the first week of GUTGAA- Gearing Up To Get an Agent. It's a month long blogfest hosted by
Deana Barnhart
. If you'd like to know more about it or see who else is participating please go to Deana's blog. For the first week we are doing a meet and greet. Where we get to know a little about each other. Thank you so much, Deana for hosting this great blogfest!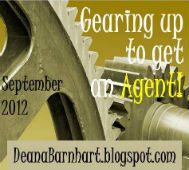 A little about me... I'm married and have three kids. When I'm not writing, I work as a nurse. I've been writing/blogging for about a year now, so still pretty new. I just finished my first YA novel and am working on the edits while trying to get my query letter just perfect.
Questions for the Meet and Greet
Where do you write?

I write just about anywhere. Have laptop will write. I don't have a work space per se. My favorite spots to write are my chair in my living room and my back porch.
Quick. Go to your writing space, sit down and look to your left. What is the first thing you see?

There's an end table next to my chair.
Favorite time to write?

At night after the kids go to bed. It's quiet and I can concentrate.
Drink of choice while writing?

Water or if I have a particularly long day I may have a glass of wine. Which can sometimes get me into trouble.
When writing, do you listen to music or do you need complete silence?

It depends on my mood. I have a writing play list that I listen to, but sometimes I need quiet.
What was your inspiration for your latest manuscript and where did you find it?

I was lying in bed one night and started to daydream. I wanted my remote, but didn't want to get out of bed. It spiraled from there.
What's your most valuable writing tip?

Don't let anyone tell you, you can't. If it truly is your passion go after it. The only thing stopping you is you. Write, write and write. The more you write the better and easier it gets.
Well, there's my answers. What about you? Are you participating in GUTGAA? Have any of the same answers? Hope you have a great week!